It started with a tree.
The idea that a reservoir being constructed in his home city of Fuzhou in Jiangxi province would submerge a forest of 10,000 camphor trees and 50 ancient homes dating to the Ming and Qing dynasties so incensed Ma Dadong that he decided to take them all on an arduous 700-km journey to a place 27 km southwest of Shanghai.
And that's how Aman's newest resort, Amanyangyun, which opened January 8, was born.
The entrepreneur, who made a fortune in advertising and is chairman of Shanghai Gu Yin Real Estate and investment management company Shanghai Gu Shan, grew up in the sweet company of those trees and houses. He and Aman enlisted botanists, engineers, architects and master craftsmen to dismantle the houses piece by piece, uproot the trees — including an "emperor" tree weighing 80 tons — and transfer them via flat-bed trucks to Shanghai.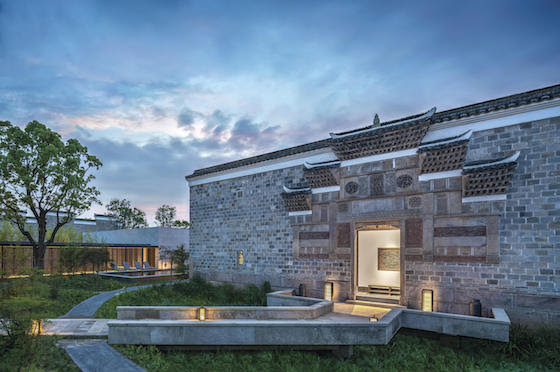 Lo and behold, a green forest with lakes and gardens on 25 acres has sprouted in the city, surrounding a new "village" comprises 13 antique villas, 24 Ming courtyard suites and 12 residences. The most spectacular house gets pride of place as a cultural complex and library named Nan Shu Fang, after the royal reading pavilion in the Forbidden City. There are five dining venues, including Lazhu, the most locally inspired, overseen by Shanghai-born chef Steve Miao; an elegant ballroom; and an Aman Spa which, at nearly 3,000 square meters, includes a fitness center, two swimming pools, yoga and Pilates studio overlooking a reflection pond.
'Staggeringly ambitious'
The whole endeavor was 15 years in the making, and if Aman Chief Operating Officer Roland Fasel describes it as "a staggeringly ambitious conservation initiative" that pushes "the boundaries of traditional hospitality," that's no exaggeration.
Ma says it makes his spine tingle looking back at the process, and what is now. Roads through mountains and bridges over rivers had to be built for the big trucks to pass through. The emperor tree alone took seven days to transport. Upon arriving, the trees needed careful nursing to survive.
There were few craftsmen left in China with the knowledge and skill to rebuild and restore the houses, whose high-quality timber and stone generally were in good condition. The structure was made with ancient jointing techniques using timber; bricks covered the outer wall. Their exteriors were plain except for an intricately carved, dramatic entrance portal, usually displaying the status and origins of the original owner.
All this has been lovingly preserved, with experienced hands including landscape and design architects Dan Pearson Studio and Kerry Hill Architects to interlock "contemporary architecture with sense of belonging," in Hill's words.
The architects had their own challenges – "how to make Amanyangyun feel as though it had always been there, and that the forest had grown around it for many, many years," Dan Pearson says.
Likewise for Hill, whose first challenge was the "blank canvas" site, with no terrain or landmarks to seed the masterplan.
Hill says his firm turned to Chinese urban design principles to develop a grain, scale and hierarchy that felt appropriate to the place. The public spaces of Amanyangyun drew reference from institutions such as the Forbidden City. Inspiration for the villa streets and courtyards came from visits to villages in Jiangxi province.
Each house is a self-contained world, with a composition of courtyards, semi-external and enclosed spaces. The generous proportions of the spaces and their sequence make the houses very special, says Hill. The quality of the materials gives a sense of timelessness and history — the fragrance of the wood, the handprints visible in the handmade bricks, the exquisite carvings.
"The contemporary guest suite is an essential building block in the masterplan," Hill says. "Our design is a contemporary reworking of the antique house typology with its sequence of rooms looking inwards onto landscaped courtyards."
Hidden updates
The key challenge here was to meet modern expectations of comfort without loss of authenticity. Most of the modernization is hidden to the guest, says Hill, including high-performance insulation sandwiched within timber panels and perforations in the outer brick skin that increase daylight in the interior without detracting from their characteristic monolithic appearance.
Pearson's landscaping adds to that experience. "We wanted each (villa) garden to feel like a glade within the camphor woodland … providing sensual spaces for activity and contemplation and reflecting each season within the planting. We have used primarily Chinese native plants, many of which have significant symbolic meaning such as the Heavenly Bamboo, hydrangeas, irises and the welcome of fruit trees at every building entrance. Each villa contains a peony, once the national flower of China and known as the king of flowers, symbolizing honor, wealth and aristocracy, as well as love, affection and feminine beauty. Unusually for China, the whole site has been planted in a naturalistic style so that it feels deeply informal and relaxed," says Pearson.
But will it bring returns?
Aman's Fasel will not be drawn into discussions on the project's financials and how long it would take to see returns, if at all. He acknowledges the hugely competitive Shanghai market – Savills Research & Consultancy shows a declining AOR to 64% in January compared with 71% in January 2017 and 75% in January 2016, while ADR dipped to US$85, from US$92 and US$94 in the same month in 2017 and 2016. The city has 22,071 rooms in the pipeline over the next few years; what's more, openings last year were concentrated in the luxury segment, with their impact expected to be felt this year, according to Savills.
Fasel says Amanyangyun is viable. "The resort epitomizes our brand in every possible way, and I couldn't wish for a more positive expression of our brand." He adds, "It is the perfect complement to the buzzy bright lights of Shanghai, offering a rare chance to press pause on life in very unique surroundings embodying the essence of Chinese spirituality, introspection and beauty." Amanjunkies are already making way to the retreat, where the cheapest rate is US$1,100 plus.
"What I perceive to be the most moving moment for guests is their chance not only to be part of the story, but to nourish the emperor tree," Fasel says. "The emperor tree is the largest of all trees safeguarded from destruction and is a compelling visual reminder the entire project. Guests are invited to nourish the tree with water when they arrive — reflecting the importance of maintaining a connection with history to enrich the future."